This one is for you, Mark Shiblu and Eric Grenier of ComCentric, and Gale Marie Collins from Perficient
Mark Shiblu and Eric Grenier
December 14, 2016, 2:14pm:
Hope you are doing well!!

We have an urgent requirement of Senior Java Developer, Please review the job description and if interested please 
send me a copy of your updated resume.

Title      : Senior Java Developer
Location   : Littleton, CO (80124)
Duration   : 12 Months
Start      : Immediately

Job Description:

A candidate that has experience developing and supporting Network Management Systems.  
The candidate must have general knowledge of telecommunications circuitry, network technology terminology, SNMP, and 
other device communication protocols, as well as strong troubleshooting and communication skills. Java, JavaScript, 
JEE, UNIX, network management concepts, SVN/GIT/CVS skills are necessary.  
3 years of practical application of Java backend development experience is required our primary function is to build 
Middleware, and not focused on UI's.  
Strong familiarity with JSON/REST API development, as well as consuming JSON/REST/SOAP API's to collect data  
Search: Middleware, REST, SOAP, backend

At first glance, I figured this guy was like most: spamming for the sake of spamming. I launched into my typical "see who he sent the message through, ask everyone down the chain to shut him off". No idea if it's ever been effective, but it helps me sleep better: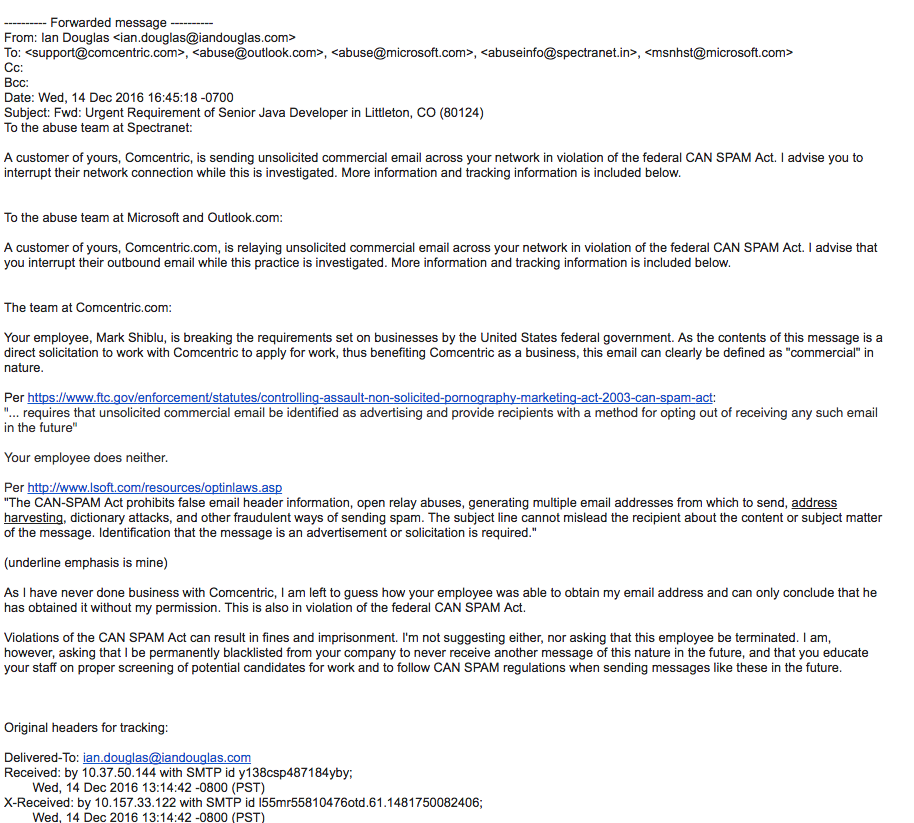 ---
Someone else from ComCentric, Eric Grenier, chimed in on that message:
Ian's resume and email were posted on a job portal soliciting employment and that is why he was contacted. 
Please have Ian Douglas remove his public resume if he wishes not to be contacted for employment opportunities.
Thanks!

Sent from my iPhone

So I responded:
I'd be happy to remove my information if you can tell me where you found it. I've not given it directly to 
Comcentric, which means Comcentric is somehow harvesting that data for commercial use, which is against the 
CAN-SPAM Act. The only places online that I actively update are AngelList and LinkedIn where I clearly state 
that I'm not looking for new opportunities. If you've found my information elsewhere, it's out of date. I 
have never been a full-time java developer in any capacity in my 20-year career, so I'm not sure why 
Comcentric would even think I'd be qualified for such a role. But again, tell me where you found that data 
and I'll contact them as well. In the meantime, please blacklist me at Comcentric from future emails.

And he replied:
Your resume is posted on Dice soliciting employment. I am really puzzled by your bizarre reaction to getting an 
email about jobs... We will not contact you again.

And then he sent a message to his team, CC'ing me:
Ian Douglas has a resume posted on Dice.com seeking employment so he is being ridiculous for this type of 
reaction.  Thanks!

So one last reply from me:
I double checked Dice last night, my profile was not searchable, not did it show any Java experience. 
I've asked them to remove my account completely anyway.

And I'm reacting this way because your company is breaking the federal CAN-SPAM rules that businesses 
are legally required to follow when sending commercial solicitation emails.

Gale Marie Collins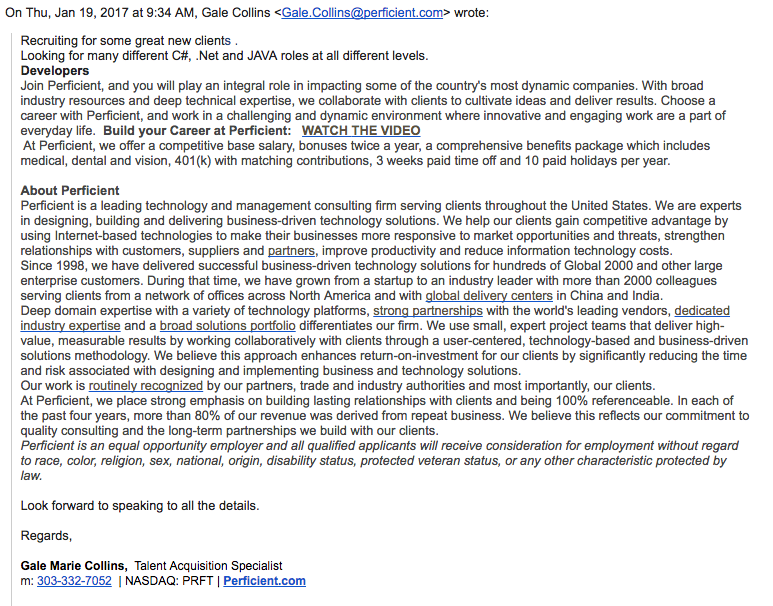 ---
Again with Java, but now C#/.NET ?
So I do what I do per CAN-SPAM: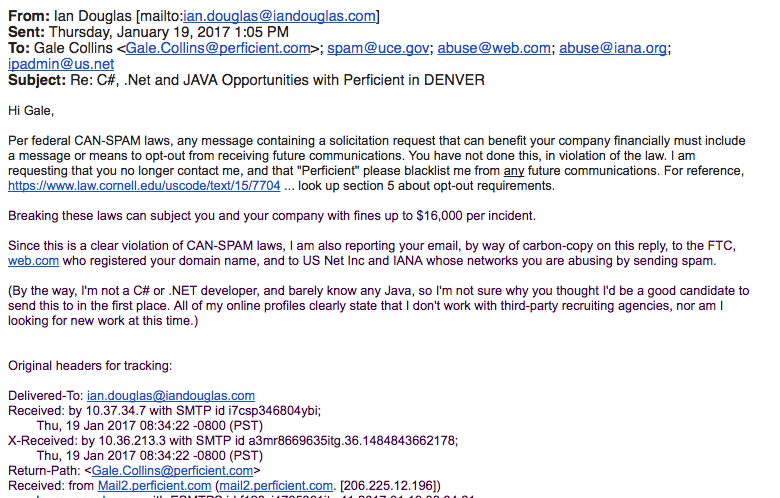 ---
Her response via email:
What is this? I saw your resume on Dice.

What is this? Seriously, you're going to complain because I reported you for being the spammer that you are?
But Dice … are they up to something shady too?