Even if you've never used dice.com to find a new development job, it probably doesn't matter. I have proof that 
they scrape inaccurate data from around the internet, build a developer profile, and make that available only 
to paying customers. Even if you ARE a dice.com user and you request your profile to be completely erased, they
still maintain this other profile without your knowledge or consent.

If you're a paying member of Dice.com, be aware that you're being sold inaccurate developer profile data!
Here's a story of "quid pro quo" that I had recently with two recruiters who contacted me early in 2017. I'm going to use their real names, because they were genuinely helpful and I want to make sure that my "headhunter nightmares" occasionally show that there ARE good people trying to do their jobs out there.
Allison Weathermax, HTP Solutions Inc
Ren Hoilman, Modis
Allison Weathermax, HTP Solutions Inc
On January 5, 2017, I received an email from Allison Weathermax from HTP Solutions Inc, to discuss a senior developer position. Unfortunately for her, the profile she got via dice.com was very inaccurate which resulted in wasted time and effort for both of us.

I was immediately curious why in the world she would think I'm a J2EE/C++ developer, or that I'd be flagged for possible aerospace experience. She did, however, admit she found me on dice.com, which was strange since I thought I had completely removed my profile from Dice in 2016 – I can't even log in to Dice, so I would presume that meant they removed my data, right?
I wrote her back as I do most recruiters:

---
She wrote back, apologizing for the confusion, said she would not contact me again, and wrote:
Here is a screenshot of the profile on dice, FYI.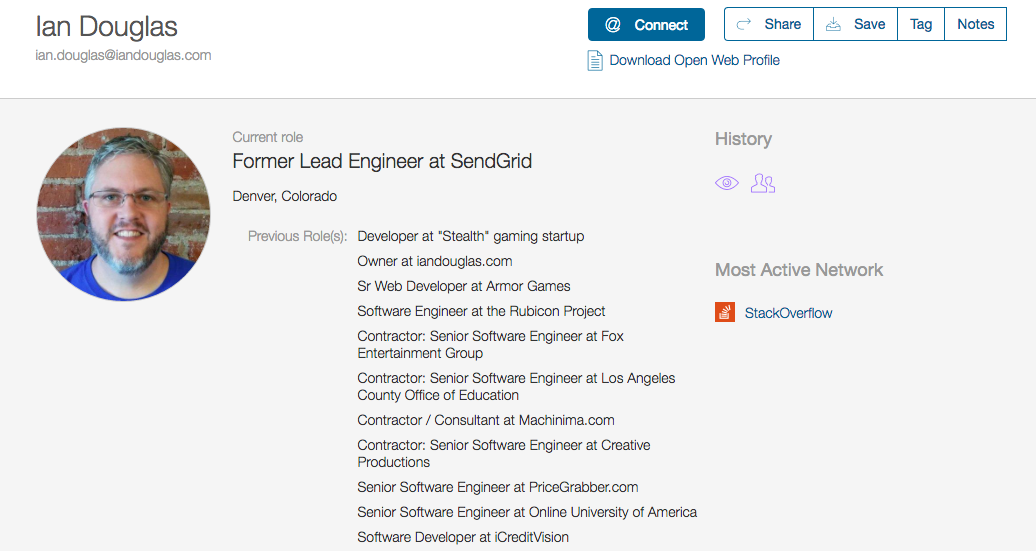 I wrote her back thanking her for sending it over, and offered my surprise that Dice would still let people access a profile that I hadn't updated in several years. The previous roles listed included things I had on my LinkedIn profile a long time ago, like my "stealth" gaming startup.
I'd had other contact in 2015 and 2016 with recruiters claiming to have found me on Dice, and I didn't think anything of it.
But then we can look at the reactions in my next piece and it starts to make sense – Dice has inaccurate data about me online.
Ren Hoilman, Modis
Ren by far has been most helpful on this. He sent a casual message on January 19th 2017:
I came across your profile in my search for a Full Stack Hybrid Developer for one of our clients. After 
reviewing your work history, I think that you would be a good fit for this position. Basically our client 
is looking for a full stack dev. with Angular and NodeJS experience (will be mostly front end development).

I was curious, after Allison's message, and others who recently told me they got my info from Dice. I don't have any professional experience in Node, nor worked professionally with Angular at all, so I wrote back to Ren:
Hi Ren,

Despite being in violation of CAN-SPAM laws by sending me this message, I have to ask: did you find my 
information on Dice.com by chance?

And regardless of that answer, I'm curious what you saw about me that indicated that I was an Angular/Node developer.

Thanks,
Ian

He responded quickly with:
Ian,

First of all Sir, I apologize for bothering you.

You're profile was listed on Dice (if you voluntarily added your profile I don't see how a violation occurred).
I thought you were an Angular dev. because it was one of your listed skills (maybe an accident?). See screenshot 
below.

Once again, I apologize for bothering you. Good luck in your future pursuits!

and BOOM, he sent a larger screenshot than Allison of a profile Dice has available for me: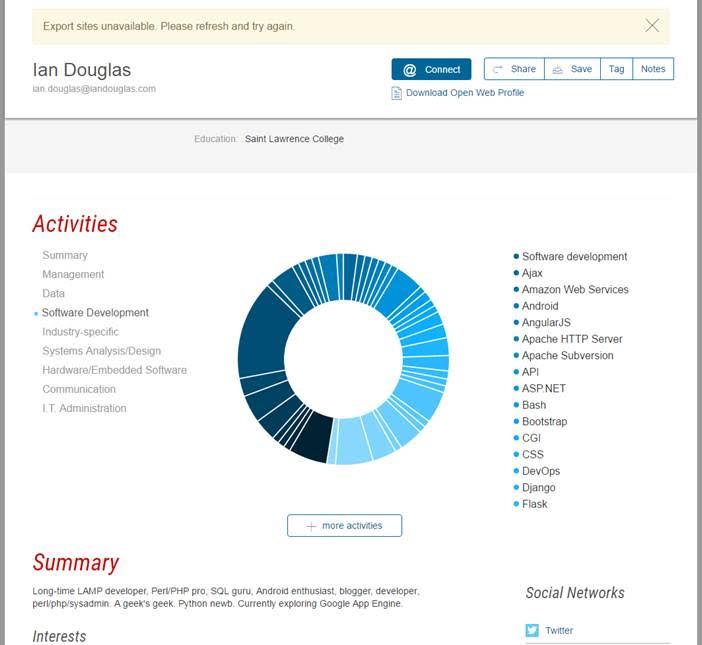 ---
I schooled Ren on CAN-SPAM in a nice way and did NOT report him to his networks and email providers, etc., and clarified to him that I had been in contact with Dice over this shady practice of selling inaccurate data:
Thanks for sending over that screenshot, it is extremely helpful. I was in contact with Dice about two hours 
(well before your message arrived) about taking down this hidden profile about me. I don't have a user profile 
on Dice (it was removed last year) but Dice confirmed to me today that they scrape data from around the Internet 
to build this (inaccurate) profile about me, and make that available to paying customers like yourself... For 
example, I see on that screenshot that Dice thinks I'm also an ASP.NET developer. Isn't it a nice feeling to 
know that they're collecting inaccurate data about me, without my permission, and selling it to you???

Part of me wanted to get a full screen grab of everything he saw on Dice, but, well, I hate recruiters.
---
Calling Dice out on it (literally)
Backing up a few hours from my conversation with Ren, I reached out to Dice.com tech support to ask what the heck was going on. After being on hold for a while I spoke with a tech agent named Jeanann Mueller (who I confirmed still works at Dice as of this writing Feb 28 2017) who suggested that I shut down every social media account I have so they'll stop scraping my data.
Yes, because that's the answer to this problem…
Jeanann later emailed me the following text: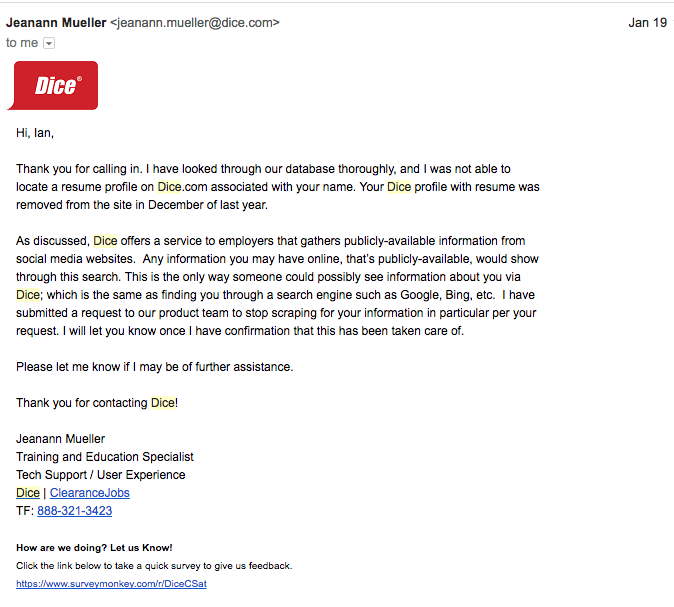 I responded to her saying Dice needs a "right to be forgotten" setup where I can be permanently removed from Dice, and accused Dice of being accessories to violations of CAN-SPAM laws.
I took to Twitter to blast Dice over their practices:
TIL @Dicedotcom scrapes public data about you as a developer and presents that to recruiters, even if you delete your own Dice account. pic.twitter.com/qSrbLaK4GW

— w. ian douglas 🇨🇦🇺🇸 (@iandouglas736) January 19, 2017
When I called @Dicedotcom to complain, their support agent suggested I just shut down all of my accounts on social media, github, etc. #wtf

— w. ian douglas 🇨🇦🇺🇸 (@iandouglas736) January 19, 2017
Imagine: delete your Facebook profile, but FB still scrapes info about you and make it available to companies for a fee. @Dicedotcom does.

— w. ian douglas 🇨🇦🇺🇸 (@iandouglas736) January 19, 2017
Just got spammed from another recruiter thanks to @Dicedotcom and their secret profile on me. Recruiter shared a screenshot with me. pic.twitter.com/VPGOqAL7bB

— w. ian douglas 🇨🇦🇺🇸 (@iandouglas736) January 19, 2017
They reached out thinking I was an AngularJS/Node developer. Screenshot also shows ASP which I've also never done. /cc @Dicedotcom

— w. ian douglas 🇨🇦🇺🇸 (@iandouglas736) January 19, 2017
It's bad enough that @Dicedotcom scrapes this data without my permission and sells it. It's worse that employers are paying for inaccuracy.

— w. ian douglas 🇨🇦🇺🇸 (@iandouglas736) January 19, 2017
.@mconigliaro yup, but @Dicedotcom algorithms are very inaccurate. Recruit-spam today was C#/.NET/Angular/Node, none of which I do

— w. ian douglas 🇨🇦🇺🇸 (@iandouglas736) January 19, 2017
I can't believe @Dicedotcom dupes employers into paying for such inaccurate data!

— w. ian douglas 🇨🇦🇺🇸 (@iandouglas736) January 19, 2017
Dice Response
Dice.com replied on Twitter:
if you could email me at my twitter handle at gmail that would be great.

— w. ian douglas 🇨🇦🇺🇸 (@iandouglas736) January 24, 2017
I love how they deflected and said the tech gave me bad info about shutting down my social media accounts. Yeah, that's really the worst part of all of this, right?
They didn't publicly dispute anything else I had said.
I've had no follow-up with Dice since. Maybe they weren't smart enough to piece together "my twitter handle at gmail" and probably emailed some hapless recipient at mytwitterhandle@gmail.com or something. Jeanann told me I could send her a list of web sites and domains to permanently blacklist, but who knows what effect that will have.
If anyone from Dice would like to refute any of this and give me a hands-on demo of what they're doing to fix this problem, they're welcome to contact me to arrange such a demonstration. I'll update this past with more information if any becomes available.
Update: Dice has responded
You can read my update here.
Spread the Word
Dice.com is seriously misleading their paying customers who rely on this data to make recruiting choices (good and bad) Vote with your wallet – take your business elsewhere.
In the meantime, I've even taken to Quora to educate the masses: