The blog is currently being ported from WordPress to over 12 years of static pages of content. If there's an article missing that you're hoping to see, please
contact me
and let me know and I'll prioritize getting it online.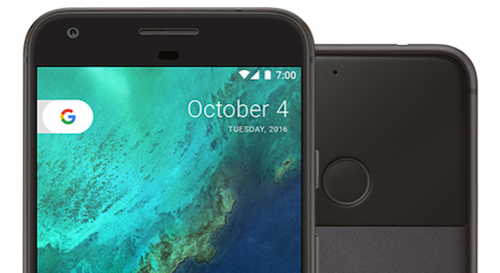 November 3, 2016
---
I've owned just about every Nexus device since the Nexus One, including the Nexus Q and the tablets. The only devices I've missed in my collection are the Nexus 10 tablet, and the Nexus 6P from late 2015. I ordered the Pixel XL the morning of the announcement and have used it as my daily phone since it arrived, and this is a really solid device and definitely worth the upgrade from the 2014 Nexus 6.
The short list of mentionables:
the camera is outstanding and overall build quality is excellent
I use the fingerprint scanner a LOT more than I imagined I would
the new launcher takes getting used to
"tell me about my day" is my favorite AI use
As with any new phone, I needed to stock up on some accessories which added about $115 on the purchase price of the phone. Coming from a Nexus 6 which always felt just a bit too big, but recently using my old Nexus 5, I decided to purchase the XL edition with the larger screen. I'll get to those in a moment.
The Pixel XL
Let's get this out of the way: totally worth the upgrade. I've been extremely pleased with the device. It feels hefty, the materials are premium, the clicky power/volume buttons are great, and no more fiddling in the middle of the night with a plug to charge the device and trying to find the correct orientation of a micro-USB connector.
Android 7.1
7.1 feels really smooth and have some great changes. I ran 7.0 on my Nexus 6 and it was very sluggish, so of course 7.1 feels faster on a better processor and more RAM, but 7.1 has some really nice changes that I've been very pleased about. The new launcher, however, has taken some getting used to. After several years with only 4 icons or folders in the launcher tray, I was conditioned to tap the middle 5th icon to view my entire drawer of apps installed on the device. With 7.1, you have a 5th icon to launch an app or hold a folder, and at least once a day I find myself pulling up a folder of utility apps like Settings and Tasker, etc., and have to remember to swipe up from the tray instead.
As a developer, it's also interesting to see Google implementing features from popular apps from yesteryear, and I wonder how those app developers feel about their business futures. For example, the famous "where did I park my car" apps got built into Google Now. Flux and similar blue-light controlling apps are now built into Android 7.1, as well as burst photo taking on the camera.
The camera
I've been extremely pleased at the quality of the camera, especially since all of the previous Nexus devices I've owned have had pretty sub-par cameras. It wasn't until we got the Nexus 5X for my wife mid-2016 that I realized just how much Google had started improving the camera quality. Without optical image stabilization (OIS), I still end up with some blurry photos, but launching the camera app and snapping a photo is VERY fast.
A two-minute 4k video of my son playing the piano consumed about 640MB, making me question my decision to only purchase the 32GB model of the Pixel XL instead of investing the extra $100 in the 128GB model, but I'm hopeful that Google's automatic backup and space reclamation is as good as advertised to ensure I always have some space left on my phone for photos.
12 megapixel images take up about 4MB each in JPG format.
Audio
Yay, the Pixel XL has a headphone port. (sarcasm mode: off)
I'm a little disappointed at the placement of the single speaker on the bottom left edge of the device. It's very easy to muffle the audio depending on how you hold your device. It sounds great, as long as you don't cover it up.
The ringtones, notification sounds, and alarms are all new on the Pixel, and sound very "ethereal" and light. I installed the "Terminator" ring tone from my Nexus One that I've copied to every device since 2010. The alarm choices aren't great, only two of them actually sound like alarm clock tones, and several of them are two light in frequencies to wake me up.
The battery
I'm extremely happy with the battery on the XL. To stress test it (and to drain it), I left the device unplugged for an entire work day and did the following activities once I woke up around 7am:
enabled Screenwise Meter for monitoring my internet usage all day
"tell me about my day" to play some podcasts from NPR, Fox News, Bloomberg, etc. (wifi and cellular data)
used Waze for my 35-minute drive to the office (cellular data)
installed a live wallpaper of the Earth
listened to several hours of music on Google Play Music with bluetooth headphones (wifi, bluetooth)
did some Android development which required the phone to be plugged into my MacBook Pro for about 5 minutes
took a half-dozen photos with HDR+ turned on, backed up to Google Photos (wifi)
browsed social media over lunch (wifi and cellular data)
used Waze for my commute home with more Google Play Music through the headphone jack (cellular data)
watched some YouTube videos (wifi)
… the battery finally died at 11:45pm with over 4 hours of screen-on time. This was honestly the heaviest usage I've ever done on a phone in a long time and I was pleased to see the battery last so long. My Nexus 6 would have likely been dead by lunch.
I've since uninstalled the Screenwise Meter app, it was kaaping my phone awake at night instead of letting the phone CPU cores idle. Even plugged into an Anker charging hub, I often woke up to about 30% left on my battery.
Fingerprint scanner
I have not enabled gestures on the scanner yet, but think I've seen an article on how to enable a swipe up/down gesture to scroll pages. I likely won't enable that gesture.
It was (pleasantly) surprising to me to see just how many apps were fingerprint-aware, and how easy it was to get them set up. The first, of course, was LastPass which allowed me to then fill in usernames/passwords on all other accounts (I set the phone up as a new device, not opting to copy over old data and settings). Once I was into most of my apps, many of them prompted me right away if I wanted to use my fingerprint to enter the app next time. Pretty handy for banking apps, security apps, and so on.
Google Assistant AI
I've played with the AI assistant a little. I'm disappointed, though, that "Ok, Google" appears the only way to launch the assistant. Tapping on the "G" search icon on the home screen, for example, and tapping on the microphone, simply launches Chrome and does a google.com search.
By far, my favorite (and quickly the only) voice phrase to use is "tell me about my day" which tells me the weather in my area, calendar and event reminders, how long my commute to home/work will be, and the plays some pre-recorded news podcasts. I'd love to be able to customize the podcasts it can play.
Accessories
With any new phone, I usually invest a little extra into some amount of accessories, replacement cables, charging docks, that sort of thing, and the Pixel XL was no exception.
Spigen case, $14

Given the price of the phone that I'd been saving up for a while (since I didn't buy the 6P), I decided a case was warranted, which is the first case I've put on a phone since my Nexus S back in late 2010. I've always enjoyed the 'naked' phone, but I dropped my Nexus 4 (twice, cracking glass on both the front and back) and even with very minor drops of my Nexus 5 and Nexus 6, I felt it'd be worth a small investment in a case.

Spigen was the hands-down winner, given their great history of sleek case designs and I was pleased that they had cases ready for order for the Pixel XL. I opted for the faux carbon-fiber "rugged" case. The case itself is very pliable and easy to add/remove from the phone. Pretty easy decision for $14. I debated a "live" case from Google, but they're $40 and extremely rigid plastic. We have one on our Nexus 5X and it was extremely difficult to remove when we had to swap out a SIM card.
Car mount, $19

I've thoroughly enjoyed my AirDock 2.0 microfoam car dock, but the wireless charging stopped working late last year and the foam collects dust easily and needs to be cleaned often with an alcohol wipe. I decided this round to get a magnetic mount, and after some research went with the Koomus Pro CD-M for $19.99.

The mount has a high-powered magnet, and ships with two thin steel plates which have adhesive on one side. The steel plate adhered to the Spigen case just fine, and the mount holds my phone in place extremely well. I don't do tons of off-roading or anything, but parts of my 20-mile commute are over pretty bumpy suburban streets and my phone hasn't fallen once. My only concern is whether the steel plate attached to my case will begin to become more magnetic itself, and what sort of impact that will have on the Pixel's internal compass.
Desktop mount, $24 x 2

I haven't owned a desktop dock for a phone since the Galaxy Nexus which performed so poorly I had to purchase an extra battery, and invested in a desktop dock that would keep the phone and extra battery charged all the time.

For the Pixel, I went with a dock by Encased, which has a few strange design choices. The "worst" is that the cable on the dock is a USB-A cable, which actually works out pretty well for doing Android development – I can move the plug from my Anker charging hub to the USB-A port on my laptop/PC. The dock also has a ring you can turn which confused me at first – my presumption (as it wasn't clear on the Amazon page) was that the ring would lock the angle of the charging port for taller or shorter devices to then lean against the back of the dock. The ring, instead, controls the height of the charging plug, allowing the use of a case on your USB-C device.

The dock is performing very well and I ordered two of them for $24 each at the time; one for work, one for home.
Wires and accessories, $27

Over the years I've collected countless micro-USB cables for other devices and tablets, and the idea of replacing some of them with USB-C cables was something I knew I'd have to deal with eventually. But since I still do development on devices with micro-USB connectors, I wanted to find an adapter that could convert a micro-USB connector into a USB-C connector. I found such a thing from a vendor who was selling a 3-pack of little plugs that fit on the end of a cable. Easy choice at $7. They fit very snugly, as to most USB-C connectors I've experienced this year, but I haven't used these adapters for long periods of time, so I'm unsure how well the resistor in the adapter deals with higher amperage over time. At about $2.35 each, they're easily replaceable.

And of course, some new USB-A to USB-C cables are needed for car chargers, charging hubs (where I don't have a desktop dock), so I opted for some half-meter cables. They're the nice, thick kind, and handle higher amps from the Anker hubs just fine without getting warm. They were about $7 each for 3 cables.